Your Questions Answered
Hopefully any questions you have will be answered below, but if not please make sure to email us with any queries.
Will my wristbands be sent to me through the post?
No, we do not post your wristbands to you. Bring a copy of your order confirmation to the Token Kiosk when you arrive and we will give you your wristbands personally.
I do not have a working printer - what if I cannot bring my order confirmation?
The Token Kiosk has a record of all online bookings, so just write down your order number. When you arrive you'll just have to confirm your name and address and order number.
I want to buy wristbands for today
Sorry, we can only offer discounts for advance purchases. Wristbands can only be used on the day they are purchased for. Wristbands purchased online are non-refundable for any reason. Wristbands can only be purchased online until midnight, on the day before arrival.
Rides
For health and safety reasons admission to rides is based on height and any restrictions in place will be indicated at the ride entrance. Full details of rides with height restrictions and passenger restrictions are available from the token kiosk. Young children may need to be accompanied by an adult on some rides.
Weather
At Clarence Pier the safety and welfare of our guests is of primary importance to us. From time to time it may be necessary to close rides or attractions due to lightening, rain, high winds or other adverse weather conditions. We regret that no refunds can be offered for any temporary or permanent closures during your visit.
Payment
We are happy to accept all major credit and debit cards at the token kiosk. We regret that cheques are no longer accepted at Clarence Pier. Cash machines available inside all Family Entertainment Centres at Clarence Pier.
Lost children
Clarence Pier does not operate an in-park pager system so please ensure your group has a specific meeting place agreed in advance. If a child becomes separated from your group, please contact a member of staff for assistance.
Do you allow dogs in the amusement park and arcades?
Well behaved dogs are allowed in our amusement park, as long as they are kept on a lead. However dogs are not allowed in our arcades except guide dogs.
Do you have toilets or baby changing facilities?
Toilets, baby changing and feeding facilities are located in the building opposite the main entrance to the Golden Horseshoe Arcade. These are public toilets not operated by Clarence Pier.
Whats your disabled policy?
We welcome visits from disabled guests and we will endeavour to do all we can to make your visit a safe and enjoyable one. Certain rides in the park are quite demanding physically and we therefore reserve the right to refuse admission to these rides where we believe there may be a danger to one or more individuals, for whatever reason. Refusal to allow admission does not constitute discrimination when based on Health & Safety guidelines and we trust that you will understand these decisions in the interests of guest safety. Public disabled toilets are available opposite the park they are not operated by Clarence Pier.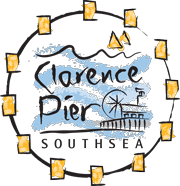 This older browser is no longer supported by ClarencePier.co.uk
For a better browsing experience and increased security we recommend using Google Chrome, FireFox, Microsoft Edge or Safari