Your Questions Answered
Hopefully any questions you have will be answered below, but if not please make sure to email us with any queries.
Rides
For health and safety reasons admission to rides is based on height and any restrictions in place will be indicated at the ride entrance. Full details of rides with height restrictions and passenger restrictions are available from the token kiosk. Young children may need to be accompanied by an adult on some rides.
Weather
At Clarence Pier the safety and welfare of our guests is of primary importance to us. From time to time it may be necessary to close rides or attractions due to lightening, rain, high winds or other adverse weather conditions. We regret that no refunds can be offered for any temporary or permanent closures during your visit.
Payment
We are happy to accept all major credit and debit cards at the token kiosk. We regret that cheques are no longer accepted at Clarence Pier. Cash machines available inside all Family Entertainment Centres at Clarence Pier.
Lost children
Clarence Pier does not operate an in-park pager system so please ensure your group has a specific meeting place agreed in advance. If a child becomes separated from your group, please contact a member of staff for assistance.
Do you allow dogs in the amusement park and arcades?
Well behaved dogs are allowed in our amusement park, as long as they are kept on a lead. However dogs are not allowed in our arcades except guide dogs.
Do you have toilets or baby changing facilities?
Toilets, baby changing and feeding facilities are located in the building opposite the main entrance to the Golden Horseshoe Arcade. These are public toilets not operated by Clarence Pier.
Whats your disabled policy?
Clarence Pier will do everything possible to ensure all guests have a safe and enjoyable day! However, some of our rides and attractions in our park are physically demanding. We therefore reserve the right to refuse admission on any ride or attraction should we feel that there is a risk to your safety or the safety of others.

Some of our rides including; mad mouse and canyon river involve a complex evacuation procedure which means these are unsuitable for passengers who are unable to walk unaided.

Passengers must be able to brace themselves with their hands and feet, remain seated and upright at all times.

Passengers requiring special assistance must be accompanied by a carer over the age of 16.

Those who are able to provide proof of a disability will be entitled to one free carers wristband when purchasing a full price day rider wristband.

Disabled passengers must be accompanied by carers on all rides.

Carers must be accompanied by a disabled passenger on all rides.

For those looking at purchasing tokens, we offer complimentary carers tokens when purchasing £1.00 tokens. The free carers tokens does not apply when purchasing discounted half price token bags.

We accept any of the following documents: disability living allowance book (DVLA), attendance allowance book, personal independence payments (PIP), the access card, invalidity benefit book, visual impairment registration card (CVI/BD8) or blue/orange parking permit.

It is the carers responsibility to ensure that the passenger in their care is both mentally and physically able to ride. Only you know your passenger limitations!

Clarence Pier accepts no liability.

We have been advised by the Health & Safety Executive that refusal on the grounds of health and safety does not constitute discrimination.

If you would like further advice, please ask for the manger.

We hope you understand and accept the decisions made in the interest of your safety and those around you.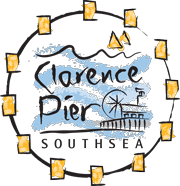 This older browser is no longer supported by ClarencePier.co.uk
For a better browsing experience and increased security we recommend using Google Chrome, FireFox, Microsoft Edge or Safari